Cleartrip - Flights, Hotels, Train Booking App
19.10.1
A Useful and Simple to Use Booking App
The world is not said to have become a global village only because of the advent of internet and the popularity of social media. It is also said to have become a global village because of the fact that traveling to other parts of the world has become easier and simpler than in the bygone days. There was a time when people went to the most popular place in the city or district for vacations. However, vacationing abroad has now become a sort of fashion with almost everyone looking to explore newer locations and newer cultures whenever the opportunity presents itself. Whether you are a student looking to move abroad for higher studies, whether you are an employee who is moving countries or whether you are a family looking to plan your vacations, planning ahead with a booking app like Cleartrip can really pay dividends.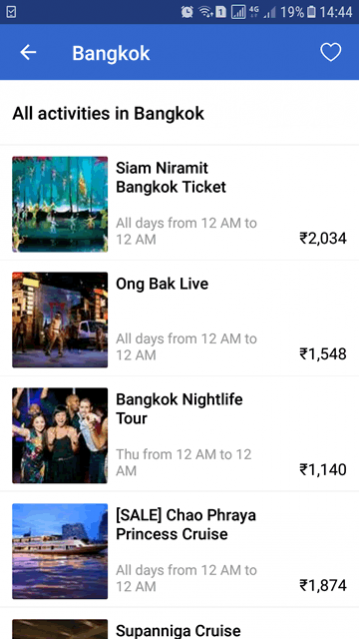 It is important to explore everything online these days as almost all the information is available on the internet. From setting your budget to deciding the route you are going to take and from the places where you can live to the landmarks which you must see, you can decide everything with a good booking app. Cleartrip offers you all these opportunities by simply acting as a hub of information for all things that are related to traveling.
Cleartrip is a booking app which is very easy to use. It has a five tabbed interface with the options available at the bottom. The available options with the booking app are flights, hotels, activities and trains. There is also a settings section through which you can sign in as well. Signing in is a good option as it doesn't only allow you to search but also lets you book there and then as well. You can save your cards, manage your notifications etc. better by creating a profile with the app.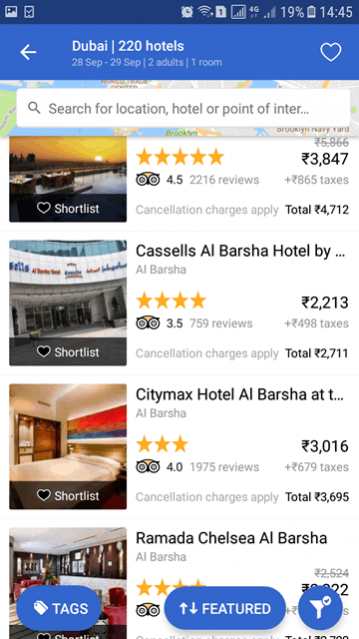 The app's main functions revolve around travel, accommodation and activities. If you are planning a trip, you would need to know about the price of traveling from your current location to the destination where you want to go. This can be done via Flights where you can type in the details of your current location and check for flights to your destination. You can provide information about whether you want a single trip or a round trip and the number of people who would accompany you on the journey. By providing dates, you can actually get to know about the going rates real-time. You can then book right away too if you want with a comparison available to provide insight on which flight and airline to choose based on your preferences.
You would also want to know about accommodations when planning a trip and this is where Cleartrip really works wonders. You can easily search for hotels at your destination and give you a fair estimate of how much you will have to spend on hotels. You can filter out by providing information about your budget and your preferences. You can shortlist the options first and then after comparison of all features decide on the hotel you want to book.
Lastly, you would also want to know about the bus routes within your destination and the activities that are a must do. The booking app can help you here as well and act as a local guide to help you out. The activities come with a Trip Advisor rating and also an estimate of how much it would cost you for the activity. You can also book if possible which is great as it helps you chalk out almost everything about your plan from the get go. The same goes for bus routes which can be understood without actually even being at your destination and this can help you in setting a routine during your vacations where you can easily go to different places while adhering to the bus schedules.
Features:
Simple and clean design
Fantastic four tabbed interface
Very easy to find details about everything
Brilliant booking feature with secure payment
Conclusion:
Cleartrip – Flights, Hotels, Train Booking app lets you plan your trip every step of the way. With booking for flights, hotels, activities and buses all possible, you can actually end up booking for everything even before you move out of your house!
---
Add a review
Tell us your experience with
Cleartrip - Flights, Hotels, Train Booking App
19.10.1
RELATED PROGRAMS
Our Recommendations
---
---
---
---